Ruud Achiver Plus Series Super Quiet 80 Upflow Gas Furnace
Super-Quiet Design
To help improve the sound quality of the Ruud Achiver
®
Series Super Quiet 80
™
, we re-engineered the door and top-plate to provide a sound barrier between the furnace's operation and your home.
Heat Exchanger
Awarded three patents, the Ruud Achiver
®
Series Super Quiet 80
™
heat exchanger is renowned for its dependability and efficiency. It's constructed of aluminized and stainless steel for maximum resistance to rust and corrosion. And it's backed by a 20-year limited warranty.
Induced Draft Motor
This draft inducer, which was specifically designed for the Super Quiet 80
™
gas furnace, quietly provides air for combustion while simultaneously venting outdoors the products of combustion from the furnace heat exchanger.
Gas Valve
The redundant gas valve is a 24-volt slow-opening valve that delivers gas in a regulated flow to the patented "in-shot" burners.
In-Shot Burners
The natural (or optional LP) gas is ignited by the direct spark ignition at the in-shot burners. The in-shot burner's shutter-free design requires no adjustments to regulate the air/gas mixture.
Direct Spark Ignition
Direct spark ignition is an extremely dependable and efficient way to light the burner. And it eliminates the need for a standing pilot. For added safety, the remote flame sensor constantly monitors the burner flame to ensure it is operating as it should.
Adjustable Air Speed
Thanks to adjustable controls for the blower, your contractor can precisely match airflow to the specific comfort requirements of your home.
Integrated Furnace Control
The "Brain" of the Ruud Achiver
®
Series Super Quiet 80
™
is the Integrated Furnace Control (IFC) which directs all activities of major furnace components. Built-in diagnostics allow for quicker & easier service calls, saving you valuable time & money. The control features low-speed continuous fan operation and accessory terminals for less expensive installation of additional Indoor Air Quality (IAQ) Products.
Easy Access Washable Filter
The Ruud Achiver
®
Series Super Quiet 80
™
is equipped with a permanent, washable filter that's easy to access and clean. You won't ever have to deal with the hassle and expense of replacement filters.
ECM X-13 Blower Motor.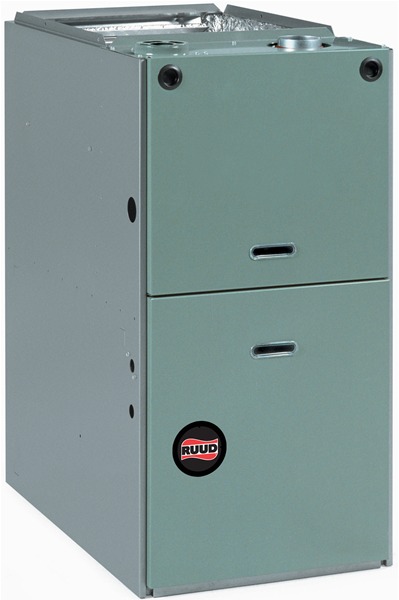 Specifications / Warranties
Conditional Parts: 10 Years (registration required)
Heat Exchanger: Limited Lifetime
Gas Efficiency:
0.8 AFUE
Documents