Ruud Avhiever Series 90 Plus Upflow Gas Furnace
The Ruud Achiever Series with Dual Comfort Control two-stage gas furnace features a new two-stage gas valve that delivers fuel to the burner at 1 of 2 rates to maintain the desired temperature. On the coldest days, the furnace will operate at 100-percent capacity. On other days, the furnace operates at 70-percent capacity to help reduce energy bills. This means that now you can have the best of both worlds. Economical light-duty heating on cool days, and real heavy-duty heating power on the coldest nights. All that, and the energy savings of a 90-percent gas furnace make the Ruud Achiever Series with Dual Comfort Control a perfect choice.
Heat Exchanger
Awarded three patents, the Ruud Achiver
®
Series Super Quiet 80
™
heat exchanger is renowned for its dependability and efficiency. It's constructed of aluminized and stainless steel for maximum resistance to rust and corrosion. And it's backed by a 20-year limited warranty.
Gas Valve
The redundant gas valve is a 24-volt slow-opening valve that delivers gas in a regulated flow to the patented "in-shot" burners.
In-Shot Burners
The natural (or optional LP) gas is ignited by the direct spark ignition at the in-shot burners. The in-shot burner's shutter-free design requires no adjustments to regulate the air/gas mixture.
Direct Spark Ignition
Direct spark ignition is an extremely dependable and efficient way to light the burner. And it eliminates the need for a standing pilot. For added safety, the remote flame sensor constantly monitors the burner flame to ensure it is operating as it should.
Adjustable Air Speed
Thanks to adjustable controls for the blower, your contractor can precisely match airflow to the specific comfort requirements of your home.
Integrated Furnace Control
The "Brain" of the Ruud Achiver
®
Series Super Quiet 80
™
is the Integrated Furnace Control (IFC) which directs all activities of major furnace components. Built-in diagnostics allow for quicker & easier service calls, saving you valuable time & money. The control features low-speed continuous fan operation and accessory terminals for less expensive installation of additional Indoor Air Quality (IAQ) Products.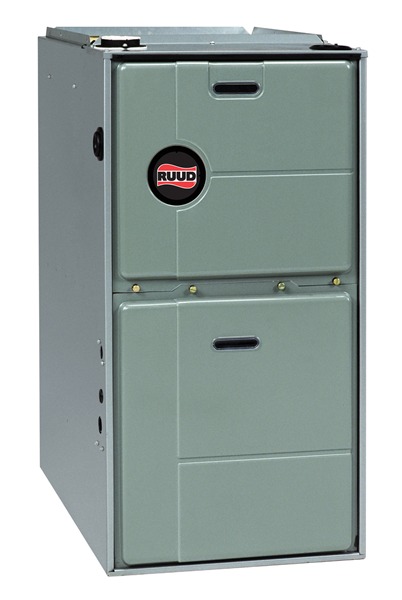 Specifications / Warranties
Conditional Parts: 10 Years
Limited Parts Warranty: 5 Years
Heat Exchanger: Limited Lifetime
Gas Efficiency:
0.95 AFUE
Documents